Little Wars Melbourne 2013
not long to go to 25th May!!!
This is a game like real war, played against time, and played under circumstances of considerable excitement, and it is remarkable how elastic the measurements of quite honest and honourable men can become.
-
HG Wells, Little Wars (1913)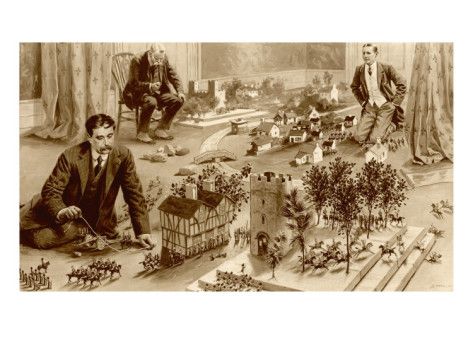 In 1913, 100 years ago, HG Wells published a set of rules for playing games of war on one's parlour room floor. It was the culmination of many years' worth of fun he had enjoyed with his fellow gentlemen playing with his collection of toy soldiers. We at Little Wars Melbourne would like to commemorate this anniversary by celebrating with a day of miniature gaming!
Mornington Secondary College is this year's venue, and it offers a few new options to us.
a HUGE amount of room

flexibility on time, which allows 10am-10pm for gaming

a lot of parking and accessibility

a self-contained space for Bring n Buy
For more information on the venue, please visit our venue page:
The emphasis for this year is on freedom and flexibility - for attendees, gamemasters and traders. Breakout areas for boardgames and/or wargames. Extra rooms for possible roleplaying/skirmish/campaign gaming. A LOT of tables for BIG games. There are a huge range of possibilities, limited only by one's imagination!
If you have an idea for some gaming you would like to try out, or have any questions, contact
Nic at Eureka: nicr@eurekamin.com.au
Where: Mornington Secondary College, 1051 Nepean Hwy, Mornington Google Map Link
When: Saturday 25th May, 10am - 10pm
(traders and gamemasters please note, setup time available from Friday night)
What: Lots of Games, Traders, Sausage Sizzle, Snacks and Drinks, Pizza-run when it gets late and the gaming gets serious
GAMES: Ancients, 40K, Rorke's Drift Zulu Wars, Bersheeba, SAGA - Dark Ages, Samurai, LotR, Command and Colours, Infinity, Dystopian Wars, Liepzig, PULP King Kong, Superheroes, 54mm Romans vs Carthaginians.
Check out Games here
Come along and have a fun day, play some games, buy some stuff, meet new people, catchup with old wargaming mates. See you there!
Melbourne's Annual Wargaming Participation Events
Little Wars Melbourne is about bringing together Melbourne's Wargaming community to share our common interests in all things military, gaming and modelling.